Werkit!
Training logs with style
Wii Fit Training Log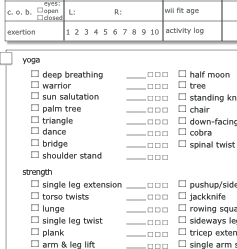 Well, in our quest to try new and different (and fun) things to keep us entertained, we got ourselves the Wii Fit game from Nintendo. It's pretty fun. It certainly is as taxing as a nice walk or some house cleaning.
At any rate, we here at Werkit would like to present a log dedicated to tracking your time on Wii Fit, should you be so inclined to track it. We find it a nice companion to our daily training, another scale to log our weight, and some other interesting data to track.
They're not completed, we've not unlocked all the activities yet, but there are write-in slots for activities we don't have the names of. We'll update the page when we get a few more in there and upload a new copy of the log. If you feel like giving us a hand and want to tell us what we're missing, feel free to tell us using our feedback form.
Simply fill in the top data based on your daily test, check off the activities you perform, write in how many times, and check off the levels (since most of the activities have multiple difficulties or reps or times). You can even log the mini "workouts" the game recommends in the notes section.
Don't have Wii Fit? You can order it from amazon when it's back in stock, at least.
Downloads
Download the following PDF file. You may want to right click (control click on a Mac) on the links to use the Save As menu to download it so it doesn't load inside your browser window.