Werkit!
Training logs with style
Strong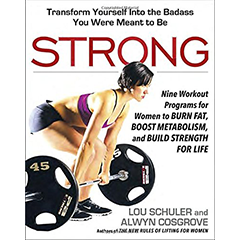 This new book by Lou Schuler and Alwyn Cosgrove is due out Nov 10, 2015. It's a great read and a fantastic workout. We've recently finished the logs for this and you can get them as soon as the book is released (or now, if you're looking at this after the release date).
If you don't have the book, you can order it from Amazon.
If you're looking for more information about the book, it has an official website is at thenewrulesoflifting.com.
Last, but not least, these are the blogs of the authors.
Update: Strong posted (November 10, 2015).

To be notified via email about updates on these logs, subscribe to our newsletter.
Downloads
So, you'd like to download our training log files for Strong? Out of respect for the program authors, we ask that you somehow have access to the book.
Just answer the question and enter your email below. You'll get to download the files right away, but we'll send you an email so you can get back to them in the future. Don't worry, we won't spam you, we have better things to do than try to "enhance your maleness".
If you don't already have the book, you can purchase the Strong from Amazon. Just be sure to come back to this page when you get your copy.